The beginning of 2015 marked a year of living in New Zealand for us! Bring out the cake! We can now truly say we are now fully fledged NZ  residents! As we hit the landmark earlier last week, we thought it would be a good idea to go over our finances and publish a breakdown of our cost living in New Zealand vs living in the UK. As you can imagine, this was no small task – we've been putting it off… just a little!
There are so many debates these days about how much more expensive New Zealand really is compared to other places around the world. We are constantly hearing about how expensive it is to live in Auckland. And the truth is everyone's comparison is different – depending on salary, lifestyle and other factors.
In this article we are discussing:
Where to compare costs in NZ to your current life;
Monthly costs of life in Auckland;
A supermarket cost comparison;
You have to do your research before you go:
If you want to do a broader search of the cost of things in New Zealand – as we may have missed a few things below then doing some research before you arrive into New Zealand would be a good idea. Aside from all the unexpected costs that can occur when making such a move, everyday living may come as a financial shock in a new country such as NZ.
A good place to start is to compare the cost of living in NZ with your current location, which can be browsed easily on sites such as Numbeo. This crowd-sourced website allows you to quickly discover the comparative costs of main points of interest, including rent, transport and a selection of groceries. Although not perfect (some of the data hasn't been updated for 6 months of so) whether you're coming from the UK, or elsewhere, this will give you a rough idea of how much your Sunday bacon will cost! ($9 bucks FYI!)
It is also worth noting that New Zealand has a GST rate of 15% on almost everything you purchase, with the exception of your income and financial transactions (renting a home or, say, bank charges). You are liable to pay all the GST and other taxes when you become part of the New Zealand's society and economy.
While it's useful to see these stats, it's also important to factor in your new salary if you'll be working in NZ. It's no use looking at new costs, and how you will afford them, with your current earnings in mind! A good place to establish an approximate salary based on occupation guide can be found via the Trade Me website here.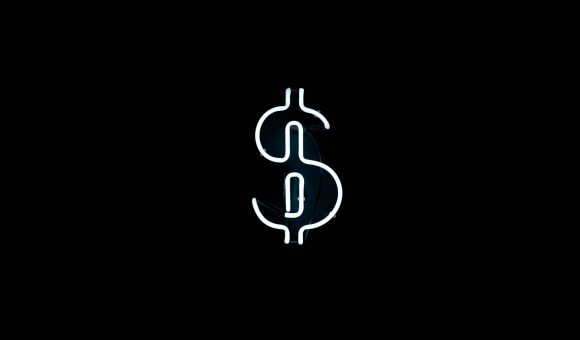 So now you know what your new salary and new living costs look like, but does this translate from your current financial situation and lifestyle?
To be able to comprehend how new living costs will affect you, you need to fully understand your current financial situation. This can be achieved by defining your current spend and disposable income, with a money planner. The website "Sorted" an independent money planner can help you with this! Check it out here!
By creating a tangible list, that takes into account all of your outgoings, you will also be able to recognise all of the infrequent necessities that require planning ahead, such as insurances, as well as the irregular demands that require additional money, such as car maintenance and everyday breakages!
With all of these demands in mind, you can wholly explore the transition of living costs from your current situation to that in NZ. This list of websites will help you calculate some of these core outgoings.
Household expenses (Bills):
Glimp and Power Switch can help you dertermine the cost of core households bills such as electricty and broadband.
Vehicle Costs:
New Zealand Transport Agency is where you go to register and license your car. More on this in our Driving in New Zealand article. And if you want to keep up to date on fuel prices here in NZ, the AA is the website to bookmark.
Insurance:
For all sorts of insurance quotes, health, life, mortgage, income protection Life Direct is a good place to start.
While it's paramount to plan financially for all of your outgoings in NZ and your new home, don't forget to think about your desired lifestyle. In calculating all of your costs, think about how you'd like to live in NZ and, hence, how you may intend to use your disposable income. Are you moving to the city where you'd like to enjoy the social scene? Will you have enough money to make that trip down south? It pays to think practically on all these matters.
So what are our cost's after one year in New Zealand?
We wanted to know if we are better off living in the UK or New Zealand.
We dragged out all our old bills and comparing September 2014 with September 2015 costs (not summer in the UK and not quite winter in NZ, fair right?) and tried to generalize our monthly costs as much as possible! This comparison is calculated from our old lives in Falmouth, Cornwall to our lives in Auckland – NZ's most expensive city might I add!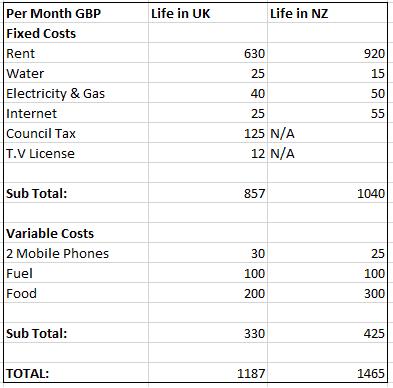 Note: All prices are in GBP and converted at the current exchange at the time of writing this article. 
Please also note: Our lifestyle now compared to our lifestyle a year ago is fairly similar. In England we lived in a 2 bedroom apartment, had a 'reasonably priced car' and we both had jobs that didn't require a long commute each morning. In Auckland we lived in a 2 bedroom apartment, have a 'reasonably priced car' and Isaac cycles to work (even in the rain!) and I cycle, take the bus and er walk (honestly!).
To summarize:
The figures really do speak for themselves. Auckland for us is around 300 GBP more expensive for us a month. After doing the maths, we came to the realization that perhaps the only difference is location – we now live in a small, but busy city in a fairly isolated country.
"You have to understand that for two people who come from a small coastal town in Cornwall, it's a fairly different setting!"
Our flat here is on the main road whilst our flat in England overlooked the sea. The view at breakfast is just a little different! For the same views in Auckland city, we'd easily be looking at triple the rent. We live within our means.
So what about our supermarket shop? Is the price of food higher in New Zealand?
The above research lead me to think more and more about if NZ really does have high food prices, sure mozzarella is expensive ($11 FYI!) … but crisps are loads cheaper, do the costs even out over a grocery shop?
To settle the little argument in my head I thought it was about time I did a direct cost comparison of a grocery shop in the UK compared to a shop in NZ.
I enlisted my mother's help in this (thanks, Mum!) however my original idea didn't quite go to plan, I was hoping we could do a similar shop and compare the whole lot, it does seem we shop quite differently – she likes liver and onions (she really does!) for dinner, while I like grilled vegetables and halloumi! So, for the sake of this comparison, we've compared 9 essential everyday items like veg, milk, and fruit. Here are the results:
| | | | | | | | |
| --- | --- | --- | --- | --- | --- | --- | --- |
| | Brand in England if Applicable | Brand in NZ if Applicable | Volume in England | Volume in New Zealand | Price in England – GBP | Price in New Zealand – GBP | Winner? |
| Bananas | N/A | N/A | 0.415kg | 0.362kg | 28p (58p a kg) | 60p | ENGLAND |
| Apples | Gala | Granny Smiths | | 0.517kg | 1.55GBP | 1.15 GBP | NZ |
| Tomatoes | N/A | N/A | | 250g | 1.55 GBP | 3.91 GBP | ENGLAND |
| | | | | | | | |
| Paracetamol | Morrisons Basics | Singature Range | 16pp | 20pp | 30p | 1.50 GBP | ENGLAND |
| Facial Wipes | | |  25pp | 25pp | 1.00 GBP | 2.79 GBP | ENGLAND |
| Tin Foil | | Homebrand Basics |  30CM x 10M | 30CM x 10M | 2.74 GBP | 1.12 GBP | NZ |
| | | | | | | | |
| Milk | | |  2L | 2L | 1.30 GBP | 1.76 GBP | ENGLAND |
| Snack Bars | Special K | Mother Earth |  4pp | 6pp | 1.00 GBP | 1.68 GBP | ENGLAND |
| Ready Salted Crisps | Walkers | Singature Range |  125g | 150g | 1.00 GBP | 0.78 GBP | NZ |
| | | | | | | | |
| | | | | | | | |
| *Exchange rate 0.56 pence to the dollar | | | | | | | |
| | | | | TOTAL: | 10.72 GBP | 15.29 GBP | |
| | | | | | | | |
| | | | | Percentage? | 42.6% MORE | | |
So which Country was cheapest?
"Our Results show New Zealand is on average 42.6% more expensive than the UK"
Hands down England was cheaper for a grocery shop! But I think we already knew that though didn't we? What is interesting is the differences, some items differ a small amount and some differ hugely.
I can only hope that the almost double the cost of some of the veg items is down to the seasonal differences but what is with the high costs of products such as facial wipes and paracetamol?
I know my investigation is only a small representation of the price difference but I have a feeling if I did another comparison on some other products another time I would get the same result.
To Conclude:
"I guess from the stats above you could say we are worse off, but we don't like to think of it that way. As we now live in a country that excites us, we live in a country that has a better climate that offers us new opportunities."
I think the lesson here for us is to stop analyzing it so much and think of New Zealand as a girlfriend. A high maintenance one at that! She is very good looking and has charm. To put up with the good lucks and charm of that sexy girlfriend we have to put our hands into our pockets and "Suck it up". To live here in NZ the cost of living in New Zealand is something we have to start putting up with. This analogy this has really helped us clarify our thought process on the price issues.
As we roll into year two we are getting nearer to our lifestyle goals, something we felt wasn't achievable back in the UK. We believe NZ is worth the extra expense and we hope you think so too!
Are you thinking of moving to New Zealand or arrived and finding things to be a bit more expensive than you'd hoped? We'd love to hear from you so feel free to get in touch!
Comments
comments